What you will be learning and experience during Bruce's photography courses in Europe.


Bespoke live hands on photography courses in Europe and photography workshops in how to photograph fashion, portraits, boudoir, dance, weddings or fine art nudes photography that will add the professional edge to your own images. Read more about these inspiring photography workshops and courses.
Photography training courses and workshops especially designed for photographers of all levels in small groups with individual mentoring depending upon your own photographic technical learning needs. For those that are looking for a very individual learning process Bruce provides one 2 one professional photography mentoring and courses.
All of the photography courses are held at Chateau Fengari, near Bordeaux, in France, a creative residential retreat set up to offer the perfect space for the creative and learning process with luxurious surroundings and accommodation with a private chef and staff to take care of you during your stay.
All photographic courses and workshops are tutored by Bruce Smith and top professional photographers as guest tutors.
In the words of past student.
"The 3 days were crammed full of shooting, with a different model each day, and doing 4 different sets with each model.
Not only is Bruce a talented photographer, he is also passionate and truly inspirational.
Throughout the day, Bruce provides guidance, feedback and encouragement. As well as working alongside Bruce, I also got to work with the stylist, make up artist as well as the agency models, which have all contributed to some amazing images for my portfolio, as well as increasing my knowledge and confidence.
Chris Hobday"
It takes confidence in your self and your abilities to become a published professional photographer, our photography workshop or courses will help you to gain this confidence.


Here are a few words from another past fashion photography course student David explaining his successes since taking our course.
" It is now 8 months since taking the Fashion Photography Course with Bruce Smith, a lot has happened since then,
1: 7 magazine fashion editorials published.
2: Photo exhibited in the Royal Academy of Art Summer Exhibition,
3: Shot three look-books for commercial fashion clients, all whilst keeping my full time IT job.
Before the course I knew how to use the camera but if you would ask me what is a look-book, or the industry terms like fashion editorial or where to begging a career as a fashion photographer, I would not have a clue.
You can walk or you can fly, with Bruce you will always fly.
Did I mentioned that I have just started testing with a top London model agency models.
David Olsen "


Come on one of our photography workshop or courses in France and learn how to create breathtaking images at a stunning photography location.


Tutored by photographers who are experts in their field. It really doesn't get better than this!. This a rich photographic experience, the luxury and grandeur of the beautiful Chateau Fengari will make your experience unforgettable.
You will be creating images in spectacular surroundings. Be working with a team of creatives who are among the very best at what they do. Chateau Fengari hosts workshops and courses in photographic genres of fashion, portraits, fine art nudes and dance photography, tutored by Bruce Smith.
It is said that if you are going to learn a skill, learn from somebody who actually does that skill for a living. With this in mind, all of Bruce's guest tutors are working professionals in the field that they teach.
So much of creating great images comes from not only vision, but communicating that vision to your team and subjects. Creating your story and directing your model are fundamental to producing images that will engage your viewer and grab their attention.
These Masterclasses will not only show you how to do that, they will guide you through the process so that you leave with the knowledge and the confidence to be able to do it yourself.
The photography courses to choose from. Dance, fashion and portrait photography course. Wedding, fashion and portrait photography course. Nudes, fashion and portrait photography course. Private one 2 one photography courses.
"How Bruce Smith became an international name as a fashion, fine art nudes and portrait photographer"
 All images by Bruce Smith

Photography workshop courses in France designed to inspire your creativity


All of our Masterclasses are held at the luxurious Chateau Fengari, which is exclusively yours for the duration of your stay. 
It is tucked away in the stunning countryside of Charente-Maritime in south-west France. Chateau Fengari is a privately owned French Napoleonic château that specialise in exceptional experience events for special occasions. 
The beautiful grounds boasts 9 hectares of forest, a beautiful lake and swimming pool. The period interiors and grand architecture make the perfect setting to create beautiful, awe inspiring images!
Join an exclusive, inspiring retreat led by internationally-renowned tutors in photography. The Château Fengari breathes new life; you will leave with amazing images energised and invigorated, gain fresh perspectives and make lifelong friends.
The photography courses to choose from. Dance photography course. Wedding photography course. Nudes photography course. Private one 2 one photography courses.
Ten attributes you will be learning about

What you will learn about during these fashion, dance, portraiture and wedding photography workshops, courses, private 1-2-1 master classes and the group photography courses, workshop and holidays. We will be covering the following 10 valuable aspects needed to become a great photographer of people.
1: Help you to develop your personal skills of openness, communication and model direction.
2: Teaching you the best settings to create the right look in camera.
3: Lighting techniques for strobe flash, on and off camera speed light flash and daylight.
4: Learn to see and to understand the various textures of light, how and when to use them with reflectors, diffusers and modifiers.
5: How to shoot better fashion, portraiture or nudes in interior and exterior locations.
6: Bruce's and the guest tutors fashion, portrait and nudes photography hints, tips and secrets that create a professional level look and quality to your images.
7: Getting your fashion, portraits or nudes photography right in camera.
8: You will be creating images that do not need excessive Photoshop to make them look any good.
9: Learn how to develop your own unique style so your photography stands out amongst the thousands of other photographers out there.
10: Become more in control of the photographic, camera and lighting techniques so you become more confident in your self and your photography abilities.
Bruce has been producing high profile fashion photography shoots all over the world since 1983. He has faced every location and studio fashion photography shoot challenge that you could possibly imagine. Come and learn the skills of a professional published fashion photographer in how to achieve amazing images from this veteran of fashion photography
Catering by the Chateau's own private chef.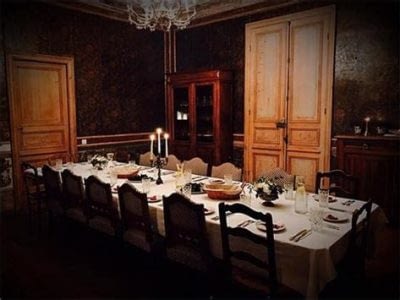 The location setting is inspiring and speaks for itself

The large studio with the most beautiful daylight